Social Bookmarking is a system where you can organize, share and store your bookmark information's. Many times during internet browsing we found some important links to store. In Window we are storing our favorite links as a favorite item. The same when happening online this is called social bookmarking. Since 1996, there are plenty of high PR Social bookmarking sites. In SEO social bookmarking helps a lot for high domain authority backlinks. Webmasters need to practice in regular basis they will share their links in Dofollow Social Bookmarking Sites. It helps for better ranking.
Using Social Bookmarking sites not only you can store your favorite links but also you can explore your friends or others favorite links. By self a social bookmarking site not contains any resource. It provide link for the original resource. You can also add description to your links in many social bookmarking sites. For better SEO the time you are Sharing your link practice to add unique descriptions for your links.
Social bookmarking sites are excellent in marketing quality. It helps to building relevant incoming links, Targeted visitors, More Traffic for shared links, Helps the audience to locate your business. Some of the popular dofollow Social Bookmarking Sites are: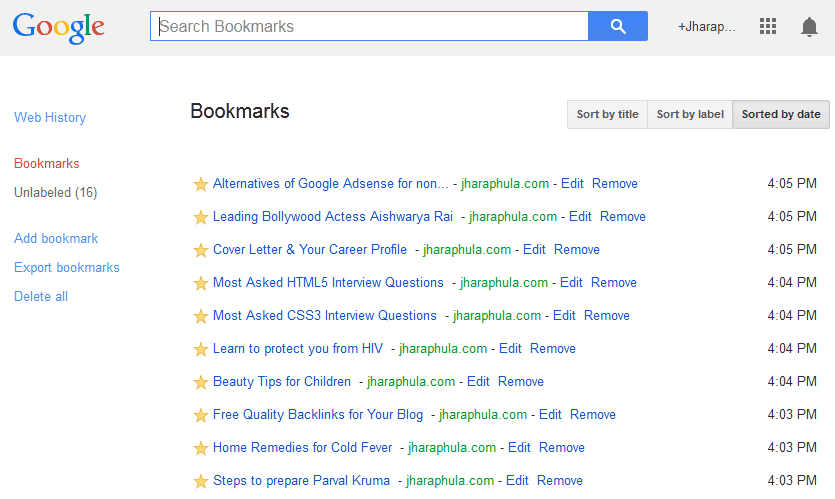 Dofollow Social Bookmarking Sites
Google Bookmarks
Yahoo Bookmarks
Facebook
Twitter
Pinterest
Google Plus
Delicious
Reddit
Digg
Scoop.it
Slashdot.org
BibSonomy
tumblr
Stumbleupon
Plurk
Pearltrees
Soup.io
Xing
Url.org
lilisto
startaid
whitelinks
if you are a webmaster start putting your links in above Dofollow Social Bookmarking Sites. It will give you a great result for Organic search. Social bookmarking is a platform to build social networks and relation among the people who share their links with each other. With the rapid increase in social bookmarking sites, new uses for the technology have been observed. Nowadays, many companies have started using social bookmarking sites as an online marketing and reputation management tool.