Buddhist weddings rituals, just like the religion itself, are considered to be very spiritual affairs. The constant emphasis is on adhering to the vows instead of orthodox religious practices. Buddhist matrimony is not about pomp and show. It is considered a personal choice instead of a societal norm or duty. Buddhism is liberal in its views on marriage and no one is forced to follow any set of practices when it comes to marriage formalities. Here are some of the interesting details about Buddhist wedding rituals, customs, dresses and a lot more.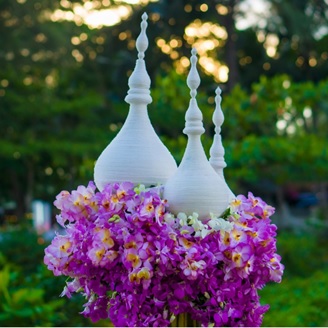 Wedding Rituals
The groom or his family usually choose the bride and they seek her nod for the wedding. These days, people prefer to look up matrimonial sites in order to find the right Buddhist match. If the bride accepts a whisky bottle and a white scarf from the groom's family, it is considered that she agrees to the marriage. This ritual is called Khachang. A formal engagement ceremony called Nangchang then follows.
Presided over by a Lama, this ceremony involves both the families and some exchange of gifts as well. One of the rituals that stands out as part of this ceremony is the token of money that is given to the bride's mother as an appreciation for breastfeeding her.
Wedding Costumes
A brocade called Bhaku is used to make the bride's dress. It resembles a sarong and is generally of full length. It is paired with a sleeved blouse called Hanju. On top of this, the bride also wears a scarf and a special coat. Jewellery made of large precious or semi-precious stones is teamed with this attire. Some brides even wear special shoes and hat as part of the overall wedding dress. It is truly unusual and endearing. Buddhist grooms generally wear a Bhaku and team it up with a waistcoat called Lajha.
Marriage Ceremony
Buddhist marriage takes place in front of a shrine of Lord Buddha. Family and friends along with the bride and groom gather in front of the shrine, which is set up with candles and flowers. All gathered would then recite the Pancasila, Vandana, and Tisarana. These are either in English or Pali. The couple then lights candles and offers flowers to Lord Buddha. Vows are then exchanged between the couple as prescribed in the Sigilovdda Sutta. The parents and elders then recite the Mangala Sutta as blessings towards the couple and their happy married life.
Post Marriage Rituals
It is a common practice in Buddhist matrimony that the couple chooses to stay at the bride's house. Some even decide to stay separately from both families. Music and dance follow the main wedding rituals. The post-wedding party includes a variety of food that usually contains beef, pork and meat.
Folk songs and dance are a part of Buddhist wedding rituals and this reflects the rich tradition that is being carried forward. Both the bride as well as the groom's families take equal part in all the formalities. Buddhist wedding traditions allow the bride and groom to make a lot of decisions themselves and are considered liberal in that sense.