Getting engaged is an enjoyable experience. You should use this period as an opportunity to prepare, purchase, and look your best in preparation for your big day. Buying THE white (or close to white) dress for the reception is a major occasion in and of itself. But have you given any consideration to what you'll wear to the many events leading up to the wedding? You've got a lot of reasons to look forward to the future, and guess what? Every single one of them will be photographed extensively. You should begin compiling a list of stunning gowns right now.
Dress for the Proposal Event Party
Take advantage of this moment to introduce your loved ones to your new identity as a bride-to-be. Try to track down a stunning, figure-flattering white dress that won't clash with the remainder of the wedding party. Plenty of photographs will be taken, thus it is important to first take some practice shots to check that the chosen fabric, color scheme, and cut all shoot properly. Although the engagement party's level of formality should be determined by the event's setting, a particularly fancy gown is not required. You want to look adorable while also feeling at ease and confident in yourself.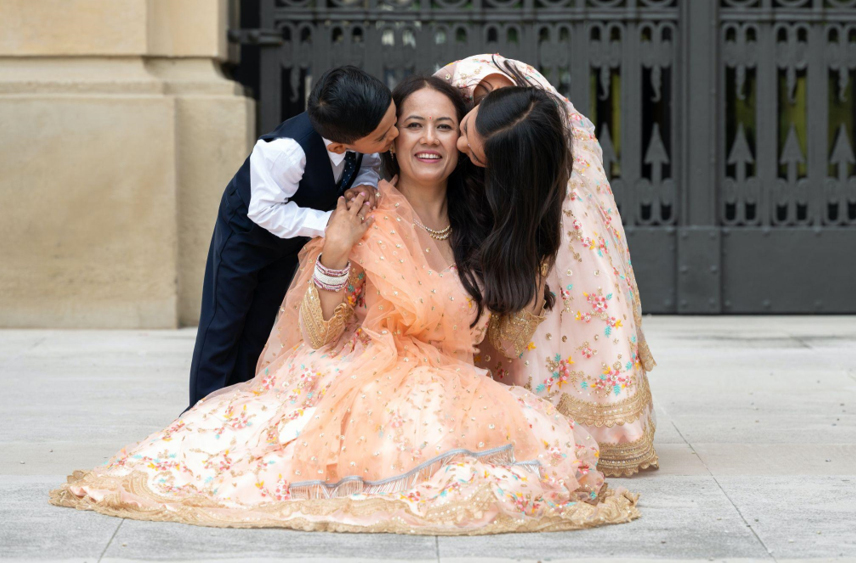 Dresses for a Wedding Shower
When the bride has more than one shower, she may need more than one dress. Often, the focus during a wedding shower is on bonding with other women. As most bridal showers take place during the day, the bride-to-be may flaunt her wonderful sense of style and femininity in a stunning white dress. The ideal dress may be a bohemian maxi, but a simple white shift would do the trick too. Your individuality and sense of style are what matter most.
Time to get dressed up in bachelorette outfits. Dressing up for a lively evening is the point of these dresses, and The Mint Julep keeps that in mind while clothing bride to be. Display your curves or bare some flesh. This getup, worn before the nuptials, must be lighthearted. Consider wearing something short, with cutouts or sequins, to flaunt your stunning figure. It's customary for the bride to wear white at a wedding so that guests may easily identify her as the event's honored guest.
The Dress for the Rehearsal Dinner
Well, there are a ton of relatives and VIPs here. That is a perfect moment to opt for an exquisite and refined style. Simple and flattering is best for this outfit. Do something new, since the following day everyone will be staring at you in your bridal gown. Choose a chic maxi dress or a charming sleeved cocktail dress instead of your strapless and A-line wedding gown.
That Dress for the Reception
Some people don't approve of the current trend of reception attire. But, the celebratory dress is an alternative if you feel uncomfortable dancing and mingling in your wedding dress all night long. It's expected to be a festive outfit, therefore sparkles and glitter are a must.
If you intend on having an engagement picture session, you may also want to get a white outfit to wear. One of the cocktail dresses might also work for the occasion.
This may seem like an overwhelming number of gowns to purchase, but if you plan ahead you may save some of the stress. White wedding gowns (https://en.wikipedia.org/wiki/Wedding_dress) are easier to come by in the warmer months, so plan your wedding accordingly. Put on something sweet as a basis. Get warm without sacrificing style by wearing a dress, turtleneck, or other long-sleeved top. The same goes for a short skirt or dress—just pair it with some tights or leggings. The finishing touches are essential. Use warm accessories such as a scarf, gloves, and heels or boots.
No matter what season your bachelorette party is in,  you know you have something plush and very on-trend in your wardrobe. Just dress up the wedding theme. The addition of a little tutu to your snow attire and a veil to the bride's ski helmet will make for a memorable wedding day on the slopes. It's fun to have a pajama party once in a while for your pals. Black is the most classic color option for a bachelorette party since it stands out against the white of the bride and her attendants.
What Should a Visitor Wear to a Bachelorette Party?
As a visitor, feel free to dress casually. Get into the mood of the celebration by wearing something glittery, such a sequined top or dress. If you're not in the spirit, simply dress like you would for a great meal or night out with friends. The most crucial part of the evening is that you enjoy yourself.
What should I wear to my friend's bachelorette party?
If you're planning a bachelorette party, it's best to steer clear of certain things. Try not to show too much skin, or wear anything too slinky.  The informal footwear trends that are in now are often considered unacceptable. Be at ease and sure of who you are.
While planning the bachelorette party, what color should the bride wear?
A bride's bachelorette party is not limited to a single hue. Nonetheless, many women choose for white wedding gowns because of the color's association with virginity. Some people may want to express themselves via their clothing by donning a hue that has special significance to them. Make sure the color you choose is one that makes you feel beautiful and at ease.
To attend a bachelorette party in style is not as easy as it may seem. Get the lowdown on the day's plans from the host before you go out the door. It's important to do some research beforehand since the clothing scene in bachelorette party cities may vary greatly. You should think about the role that a snapshot of your attire may play in helping you maintain a polished appearance. It's a good idea to bring along some outfits that will make you feel as strong in yourself as you always have.