Festivities are celebrated with sweets, decorations and clothes! Yes, Clothes become a very vital part of any festivities as we all put a lot of effort in making us look beautiful and comfortable. This off-shoulder jacket specially designed for Christmas is a must buy this season from popular online brands as it is self-indicating about the upcoming festive season. The Santa in red designed on the green becomes the spotlight and hence, the most apt thing to wear on Christmas! The off-shoulder aspect adds lot of style and vigor and the uneven hem makes it dapper!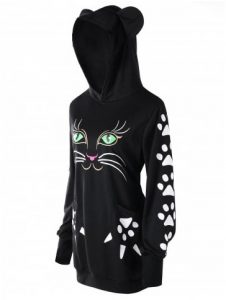 Sweatshirt – Upcoming winters calls for some new shopping always. This new shopping calls for a reality check where you again understand what is in vogue. Being in vogue is a contemporary trend that we see everyone following. Besides the hair color and style, the clothes and the silhouettes are also similar. So when the winter beckons, it beckons thick and pure woolen clothes that are stylish and modern. Buy this lovely piece of sweatshirt, that will serve you in the hardest of the winters. Pair it up with a jeans and long boots to complete the chic look and you are ready for a party, check more on rosegal and other clothing sites.
Cat Pattern Hoodie with Ears – So, if you are nocturnal and wish to get dressy all the time, go ahead and buy this stormy black catty hooded jacket from Rosegal. This will not only give you a style statement but will also make you stand apart from the crowd as you will only gather lots of attention. The ears that are made on the hood will enhance the catty effect and you will love the eyes staring and complimenting you when you adorn this around your lovely figure. The paws all over the sleeves adds to the sharpness of the cat!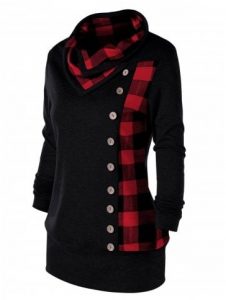 Plus size cowl Neck:mkets – Makes an immutable impression, and this hooded jacket certainly does that! The never-ending impression that it creates makes one look forward to your style the next day too! The very beautiful checks on one side of the jacket that is highlighted with the lovely contrasting white color is a perfect for a working day on a winter morning. The cowl neck of this jacket gives complete cover to the neck area during a chilly winter night or day. Made comfortably, you will feel very good after being dressed in this lovely couture from an e commerce websites!
Wind Sweater – Zippers look cool in the winters as winters must be in great style and every picture you click with your friend, you must stand out and look dapper. Buying a wind sweater with a zipper is not only trendy this winter, but also based on utility. This piece not only looks great on your body, but also serves you warmly in the chills of the winters. The zipper is available in many colors and sizes and can be checked on Rosegal and other websites that have a wonderful collection for this upcoming winter season.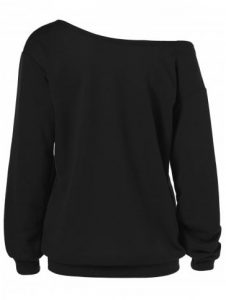 Skew Collar T- Shirts – Love is the way you get everything you want. If you just feel like love or being loved, buy this skewed jacket that will expose your shoulder skin in a very aesthetic manner; available online. The front of this has LOVE printed which shows your intention of being full of un and frolic. The black color of this jacket adds to the vigor of the black and the LOVE written in white is a subtle gesture. Something contradictory to each other adorned by one body is certainly we all look for as we have mixed personalities and our clothes must reflect that! For more details.