The internet has proliferated every sector of our life and we tend to rely on the internet for every actions in our day to day activities, decision making and life planning. Availability of e-commerce websites had made it easier for people to buy anything from any part of the world with few clicks on their mobile/tablet or PC. However, some of the huge gaps that exists with the way we use internet to plan our life decisions includes children training, house monitoring, family planning and importantly house hunting. Housing is the bedrock and a common traits of every successful individuals, owning a personal house does not really guarantee peace of mind but the rigorous process involved in house hunting had made so many individuals victim of perpetual scam experience courtesy of unreliable real estate agents.
Online house hunting proves to be beneficial as it gives you the opportunity to search for property based on your budget and familiarize you with the neighborhood you intend moving to. You can make inquiries about price range, address, neighborhoods, investment opportunities, crime rates, schools and other relevant information's.
This post will explain step by step guide involved in buying verifiable real estate properties online, at the comfort of your mobile phone, tablet or PC. While hunting for your dream house unseen, you can learn useful information on real estate agents websites and take an inquire more about your desired property, verify ownership and documents before further transaction.
1. Verify Agent website
This is the first step involved in reducing the risks of losing your housing budget to scammers and sub standard properties. You can verify real estate agent websites by reading reviews about them either on their website or social medias, familiarize yourself with the agent and ask questions for further clarifications.
2. Search for property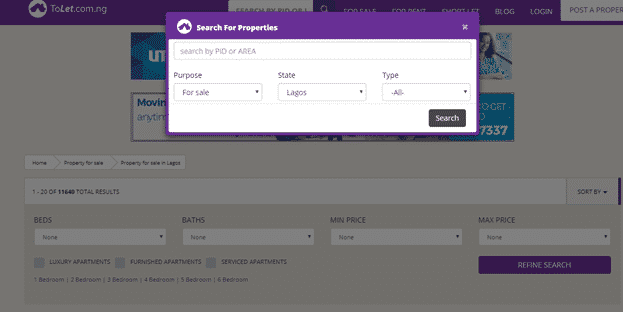 The types of property available on real estate websites should include both commercial and residential property. The website search query should be made available to first time users without necessary registration. You can just search for property just by texting a search query such as house for sale in Lagos or House for rent in Abuja depending on your preferred locations and the search should come up with a list you can choose from.
2. Register an Account
Most real estate agent websites often comes with an option to register an account or subscribe to an alert system with your mail that automatically reminds you when your desired property is available on their property portal. After searching for a property that is not available you can subscribe to alert that help find your perfect property.
4. Offer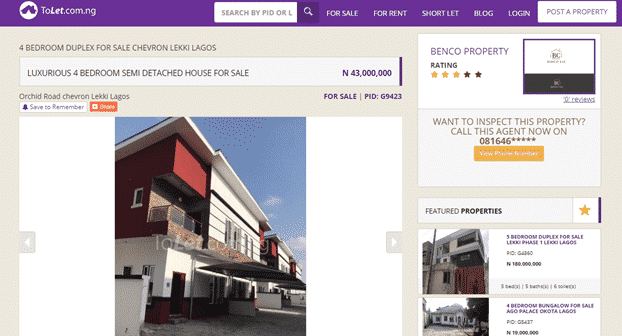 Great! you just found your dream house and the budget is affordable. Contact the property agent and verify further information's about the property. You can decide to ask for more pictures, schools in the locality and other additional information's.
5. Legal Documents
This is often considered to be the most important aspect of renting or buying a property either online or offline. Inform your solicitors to assist by confirming the offers and sign the necessary documents. Ensure you understand all terms and conditions included in the draft contract before appending your signature.
Gone are the days when you need to walk down the city all in the name of finding a house. Real estate agents website maintain searchable database for all kinds of available properties that fit your search query and if you are unable to find a house instantly, a notification system can be subscribed to for future availability.
Author's Bio: Kolapo Imam is a Content Engineer, Social Media Enthusiast and a Digital Marketer with a versed understanding of Technical Writing, Copywriting, Social Media Management, founded Campustrybe Media and contributes to few other blogs. He is currently a content writer intern at Tolet.com.ng. Nigeria's 1st online letting agency.